NHSBT launched its first grant call for the BAME Community Investment Scheme (CIS) in September 2018 to financially support community-led organisations to promote organ donation within their own communities.
JHOD have been fortunate to be part of the CIS and ensure support and resources are available to take organ donation messages to our communities.
JHOD works with community organisations, advising and encouraging more organisation to apply for funding.  The projects we are currently supporting are:
Jalaram Mandir, Leicester:  A second year project  at raising awareness among Hindu/South Asian community in the West Midlands.
Oshwal Association:  A project aimed at UK's Oshwal community and aimed at all generation of Jains.
Veerayatan UK, Shrimad Rajchandra Mission: Dharampur and Shishukunj partnership; Targeted approach via innovative resources aimed at Jain/Hindu community and in particular young people.
BAPS Shri Swaminarayan, London: Continued awareness raising among Hindu community.
Jain Network: Raising awareness among the local community in North West London.
Royal Free Hospital: A project raising awareness and encouraging donation after death
Sadhu Vaswani Centre:  Awareness raising and increasing donor on the register by the Sindhi community
Daws Hill Project: Aimed at and raising awareness among young people at universities.
We have further supported projects by:
Vanik Council UK – Give a Gift, Give an Organ
The aim of Vanik Council's project was to target the Jain Community in North West London to raise awareness of organ donation by designing and producing materials relevant to their community, including stories from donor families and recipients. This was printed as a leaflet and 5,000 copies were distributed via Jain organisations.
BAPS Shree Swaminarayan Sanstha: Living Donation: A Gift of Life
BAPS Swaminarayan Sanstha led a project to raise awareness about Living Organ Donation among Hindus in a programme funded by NHS Blood & Transplant.
BAPS Education: Organ Donation
In celebration of Organ Donation Week, BAPS Swaminarayan Sanstha (BAPS) has launched a new educational video about organ donation and why it is so important to have a conversation with your family about your wishes.
BAPS has been raising awareness about organ donation for many years. More recently, this has included a series of short videos emphasising the need for Asians to consider organ donation, how Hinduism supports it, and the importance of registering online and having a conversation with your loved ones. Please go to YouTube and search for BAPS organ donation. 
Life beyond Death – Pass it on
An initiative supported by Veerayatan UK, Shrimad Rajchandra Mission Dharampur, UK and Shishukunj London.
Between 2019 and 2020, 1057 South Asians were waiting for an organ transplant in the UK, only 124 organs were donated. This is an urgent call to the British South Asian community to register now and potentially save someone's life. We must open the dialogue about organ donation with our families. Leave them certain about your wishes when you die.  This cover of Mariah Carey's iconic song was performed by 16 talented British Asian artists with the hope of spreading awareness about the NHS' organ donation campaign in the UK.
Produced by: Ragatip Music Director: Tom Beech Filmed and Edited: Cardboard Creative
​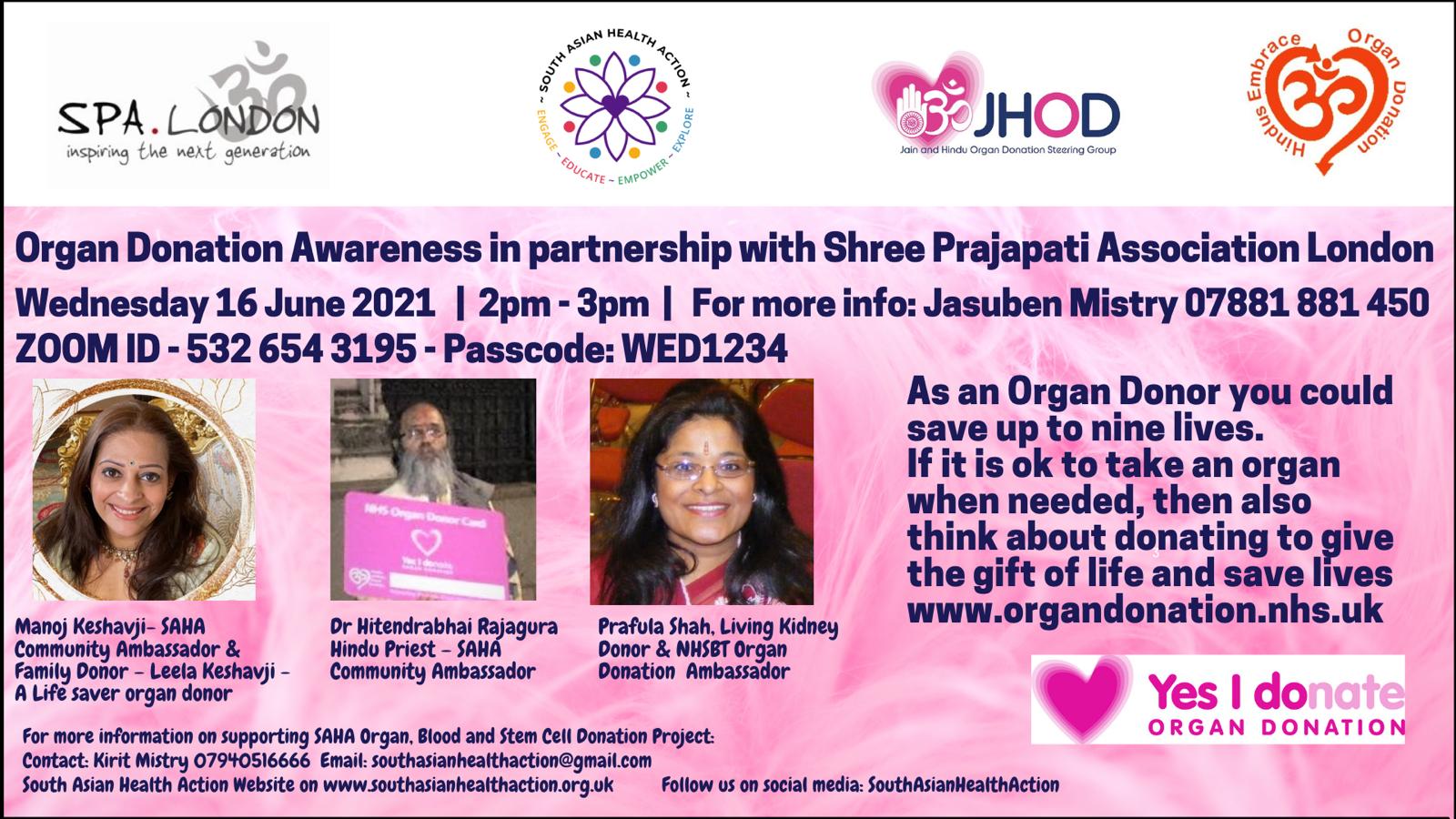 Organ Donation Awareness, 16 June 2021
An event in association with Shree Prajapati Association London.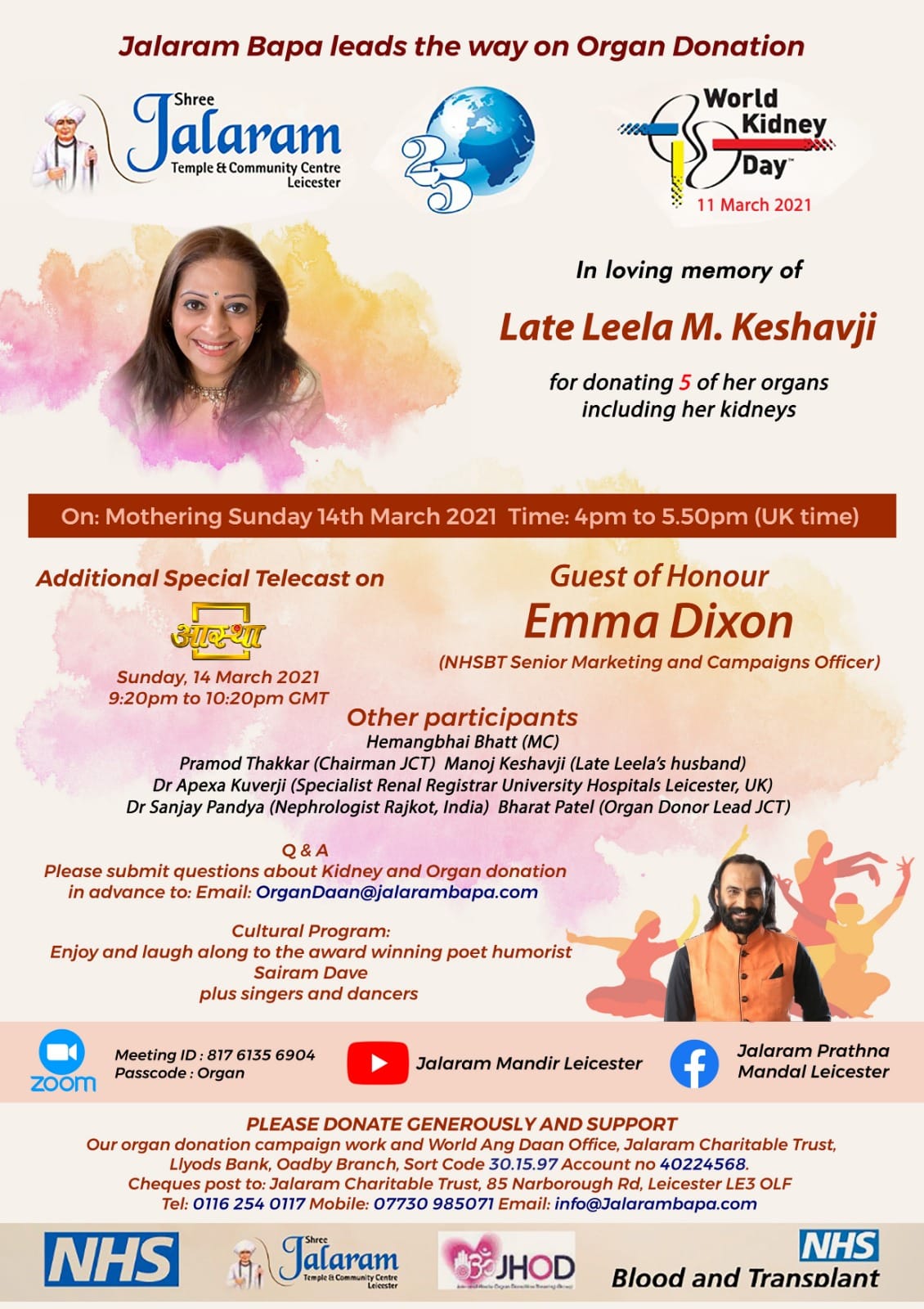 World Kidney Day, 11 March 2021
In loving memory of Late Leela M Keshavi, for donating five of her organs including her kidneys. A special telecast with prominent guests and performances.